Random observations after 5,000 miles
Today we surpassed the 5,000 mile mark of our trip. Tomorrow marks 4 weeks that we have been away, 28 days, hard to believe. Time does fly when you are having fun. After being on the road for that long, and having passed through no less than 10 states so far (and that does not count Ohio), I think it is about time to give you some of my observations. I have shared most of these with Arnie during our drive time, so I guess you can say they are "ours" but just in case he does not fully agree, I will say "my". These are in no particular order, just some random thoughts
- Subways...they are everywhere! I heard on the radio sometime this spring that Subway had just surpassed McDonald's in terms of number of locations/stores. That fact must have been based on global stores, because in the US there must be twice as many and that is being conservative. There are literally everywhere. Stand alone stores, in gas stations, you name it, from a big city to a town of 2,000 people, there is a Subway. This of course makes my family happy, but not me, I am not a huge fan. When you grow up on NY subs, and for me from an Italian pizzeria, they just don't cut it, in particular the bread, I hate it.
- Oregon is the Dairy Queen capital of the world. And as a result, it has become a favorite state of mine. My first job where I paid taxes was at DQ, and I have been their biggest fan ever since. So when they are literally at every exit in a state, like it seems they are in Oregon, and even better they make the highway sign, the Zucker family is very happy. There are so many I was convinced they must be headquartered here, but they are not...in fact in Illinois, go figure. I guess they just have the best franchisees ever, as for sure it is not the sunny, warm weather that drives people to want more ice cream.
we will stay on the food angle with the next one
- Chipotle; we are investing in their stock when we get home. Our family consumes a ton of Chipotle, we have now even turned my parents onto it. So we agreed with the kids that the "treat" while in the RVwould be to go to Chipotle. The issue had is they DID NOT exist after Ohio, literally didn't see them, not in St. Louis, not in Colorado (and yes I know they are headquartered in Denver, but in southern Colorado didn't find them), not in Utah (or at least Moab). It was not until we got to California that we saw them again. Folks that is a LOT of land, which means a ton of expansion opportunity, which means, we are investing in the stock.
staying with retail channels, let's go to food, drug, mass as we call it in CPG land
- Dollar Stores. Now I know why they are the fastest growing channel in America for the past 15 years. It is not because of the poor economy, it is because if a town is too small for a WalMart, they get a Dollar Store. We have not passed through a town of more than 250 people where they main shopping is not a Dollar Store. Not a grocery store, not even a IGA, but either Family Dollar or Dollar General. It is unreal. We have also seen a TON of their distribution centers, which must rival WalMart for the most sophisitcated and networked in the country for sure.
- Grocery stores and shopping has truly been a tour of the retail landscape so far... from Krogerville in KY and Indiana, to Schnuck's in Illinois and Missouri, to Albertson's in Colorado, then we hit a ton of City Markets in CO and Utah, on to Ralph's and Safeway in California and now Fred Meyer in the pacific NW. I am a very loyal Meijer shopper so I have been in sticker shock FOR A LONG TIME. I didn't think anything could be more expensive than Kroger, until we discovered City Market. Come to find out, it is owned by Kroger, that explains the pricing. So if you can imagine Kroger, but in high tourist spots (like Moab), high income spots (like Durango) and hard to get to spots (like around national parks) you can pretty much figure they will charge you whatever they want, and they do!
- WiFi or not. So, in case you don't know how WiFi work, you need cell lines for it to get a signal from. I have now figured that out. But the good news is we have a Verizon WiFi and Versizon cell plan, so we shoudl be fine because Versizon covers everywhere. Isn't that what their commercials say, that the cover like 96% of the US, well let me tell you, I am calling their BULL&*@*#*@ for sure. No way man, unless their asterisk at the bottom says "not including any land owned by the US Gov't." We have not had ANY coverage at all, outside of major cities, for the past 2 weeks, NONE. In Yosemite village you get it, but that is about it. It is SO frustrating I can't even tell you, and I literally want to call them out on it. I don't know what people in rural areas do, it is very tough.
- Our biggest surprise so far has been the general lack of wildlife. When you set off on an adventure to go to national parks, you kind of think you are going to see some wildlife - NOT! We have seen NOTHING. I honestly think we see more in our own backyard in one week than we have seen in 4 weeks - more deer, squirrels, chipmunks, birds, raccoons and so forth. Arnie saw a bit on his early morning runs, but that is it. It has sort of been a downer if I am being honest. We still have Yellowstone, which last time we went we saw a ton, so I am holding up hope, but so far it has been a bust. I guess the animals have smartened up and realized suburbia is a better gig than the wilderness, vegetable gardens and food galore beats grass and grubs.
- Best license plates. We have seen about 40 of them so far, just missing some east coast ones, but am sure we will see them in Yellowstone, but given that I know what they all look like, here are my top five with pics below.
1) Utah -
2) Arizona
3) Oregon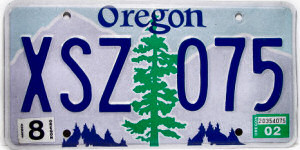 4) Colorado
5) California (I love the simplicity and script of the name)
Finally, my favorite state highway signs - the state of Washington, aren't these cool
I hope you have enjoyed my random observations, tell me if you did (you can comment) and that may encourage me to do some at the end of our trip.